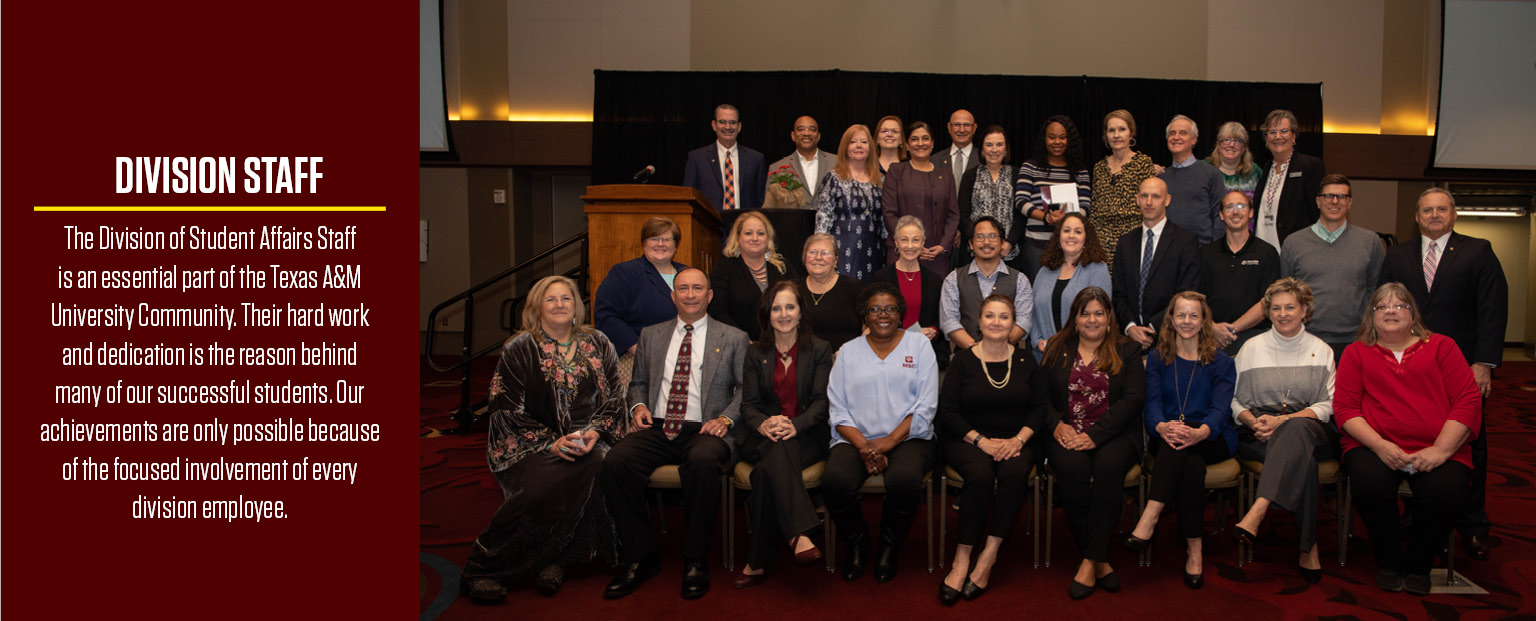 Division of Student Affairs employees are an essential part of the Texas A&M University community. Their hard work and dedication contributes to student success. Our achievements as a division are possible because of the focused involvement of every employee.
The staff in the Division of Student Affairs serve as the foundation of our work with students. We are committed professionals who seek to support and enhance the learning and development of all Texas A&M students. Collectively and individually, we are well known for our knowledge and expertise across campus and in the student affairs profession. As our greatest resource, the division invests in our staff by providing support and opportunities for personal and professional growth.
In an effort to best serve students, the division consistently examines current practices and processes to develop strategies to enhance recruitment and retention of a highly qualified, diverse workforce. We are committed to providing training and professional development opportunities to stay abreast of the evolving needs of an increasingly diverse student body and current emerging topics such as risk management, legal issues, and wellness. We provide support and devote resources for the development of staff to be leaders in their respective fields.
The division is committed to recognizing the contributions of staff to the educational and student development mission of the university and the profession. This recognition occurs frequently at the department level and division-wide through publications and appreciation programs.
UNIVERSITY STAFF COUNCIL REPRESENTATIVES
The Division of Student Affairs has two representatives on the University Staff Council (USC) who represent the interests of and address the issues impacting both classifies and non-classified staff. To learn more about the University Staff Council and to find the contact information for the division's representatives please visit: https://staff.tamu.edu/about-us/representatives.html.