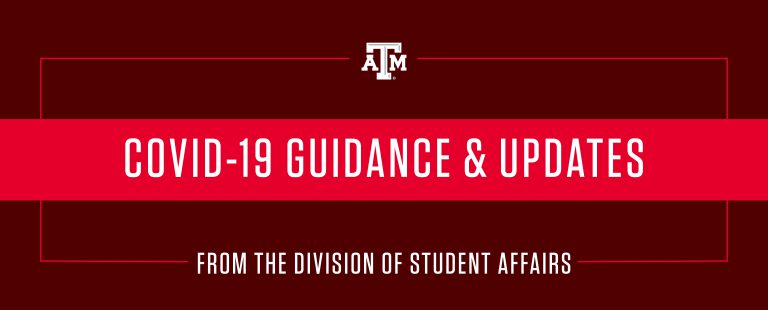 Howdy, Ags!
While we will continue to provide essential in-person services related to housing and health, the majority of our other services are now being exclusively provided remotely by our outstanding and dedicated staff. Although most of our physical locations are closed to the public, our staff is available via phone, email and Zoom (when applicable) to support students, faculty, staff, and other stakeholders. We are committed to providing remote services that support student wellbeing, enrich the student experience through online engagement, and contribute to student success. For the most accurate and up-to-date information, please visit our department websites and connect through social media.
Office of the Vice President
Our team is via phone, email, and Zoom for consultation and support. For general inquiries, please call 979-845-4728 or email

vpsa@tamu.edu

.
Students who are faced with financial difficulties as a result of the COVID-19 health crisis can apply for emergency financial assistance. Please detail the reason for your request. Funds are limited, every request may not be funded or fully-funded.
The University has created a relief fund for our students administered by the university. If you've been looking for an opportunity to show your support, we would be delighted if you would donate to our student relief fund
Student Health Services (SHS) is available for students to utilize during this time. To make an appointment with a clinician, visit the SHS Appointment page. If students are experiencing any high-risk symptoms (fever, cough, shortness of breath, loss of taste/smell, diarrhea), they may web book a telemedicine appointment with a clinician or call SHS at (979) 458-8310 to schedule a telenurse screening appointment. Find updates and how to access services on our SHS coronavirus update page. Patient Services is available to answer questions at (979) 458-8310 or patientservices@shs.tamu.edu.
COVID-19 PCR (current infection) and antibody testing (past infection) are available for students by self-referral. Results will typically be available within 48-72 hours after testing. Insurance may reimburse for the cost of this testing, so students should bring their insurance card. For uninsured students, CARES Act Funding is available. If you have had a close exposure to someone with COVID-19 or you have symptoms, please make a telenurse appointment. For those having high risk symptoms (fever, cough, shortness of breath), the nurse will be able to give instructions for seeing a provider and receiving testing. For those with mild or low risk symptoms or who have had exposure, you may be sent to the self-collection testing area. Contact the Lab at (979) 458-8333 for any questions. To expedite the testing process, please fill out the following form in advance: COVID Antibody Testing Form. Testing is only available on Monday-Friday, 8:15am-4pm. Please present at the main entrance to gain access to the lab for this testing.
Faculty and staff are now available to utilize SHS for COVID testing. COVID-19 PCR (current infection) and antibody testing (past infection) are available. Faculty and staff can self-schedule on the patient portal if they do not exhibit any high-risk symptoms. There is a charge associated with SHS testing, yet insurance may reimburse for the full cost of the test. Please contact Patient Services at (9790 458-8310 for more information.
General Information

On campus housing remains open with live-in staff on duty and working wi-fi.
Community Learning Centers are open and promoting social distancing guidelines.
Academic Peer Mentors are available online.
All programming is suspended but staff are working to keep community involvement without compromising social distancing.
All Game Rooms and the Fitness Center at the Gardens are closed.
Residence Life 24 Hour Desks in the Commons and Hullabaloo Hall, as well as the information desks at White Creek Community Center and Gardens Community Center, will be staffed on a limited schedule. There will be a phone number posted for assistance after hours.
The Housing Assignments Office, North and South Area Offices, Corps Area Housing Office and Gardens Apartments Office will be closed to walk-ins.
Dining is open and offering take out only.
Offices of the Dean of Student Life
Visit our COVID-19 page for our department-related updates.
The Department of Multicultural Services (DMS) is now hosting weekly office hours throughout New Student Conferences (June 2 - August 11). DMS office hours are held every Tuesday at 2 p.m. and every Thursday at 4 p.m., and inform incoming freshmen about each of the department's first-year programs and diversity education programs. More information can be found online.
The Let's Talk Program is now available through Counseling & Psychological Services. Let's Talk provides a virtual space for students of color to process their experiences as they navigate identity, academics, and the challenges and uncertainties related to COVID-19. Visit the Let's Talk page for more information.
Counseling & Psychological Services (CAPS)
The Disability Resources (DR) team is committed to providing accessibility consultation and support via phone, email, and video conferencing (Zoom) for students, faculty, and staff making the transition to online and hybrid coursework and services.
The Disability Resources office in the Student Services Building, Suite 122 will be open business hours (8am – 5pm) with limited on-site staffing again beginning Monday August 10th.
DR still strongly encourages that most contacts be completed by phone, email or through web conferencing appointments.  Most staff will still be working remotely at least part of each week throughout the fall semester.
The Disability Resources Testing Center (TC) will be available for in-person testing as well as Zoom proctoring for the fall.  Detailed information about how students with disabilities can schedule exams and what to expect when taking exams at the Testing Center are outlined in the TC Reference Guide for Fall.
All MSC events and programs are canceled for the remainder of the semester, however, we are working on a variety of campus wide programs to be delivered online. Please follow our social media sites or check our website for future offerings.
Check out ArtFest 2020, our online student art exhibit hosted by the MSC Visual Arts Committee!
The Rec Center and Penberthy Sports Complex are open for activities! Put on your face mask and come work out, participate in intramurals, climb, swim, and join a fitness or small group training class. Face masks required for all activities in the facilities, except when swimming/exercising/recreating in a pool.
Download our new Rec Sports App for easier access to a healthier you! The App provides an additional source of ID to enter our facilities, simplifies the registration process for classes; provides notifications to stay informed, and gives easy access to calendars and schedules. Download it today from the  App Store or Google Play.
Group RecXercise classes are now offered in person and live on Zoom! All-Access class passes and Virtual class passes now available! Buy yours today through the Rec Sports App or at https://recconnect.tamu.edu/
Rec Sports Intramurals is now offering an eSports Play Pass for only $10 and the Intramurals semester Play Pass for $20. Go to https://recsports.tamu.edu/programs/intramurals/ to find out details and schedules.
Want to climb or swim? Just make a reservation through IM Leagues to schedule time in the indoor lap pool, the lap lanes of the Cain Outdoor Pool, the indoor rock wall, or bouldering wall. Participants must create an account with IMLeagues prior to signing up for a time slot.
Outdoor Adventures is now offering "Camping Concierge" - a new service to help you get outside. Sign up for either a virtual or an in-person meeting to get help planning your next outing.  Want to know what park to visit?  Don't know what equipment to choose or where to rent it? Our staff can assist; no question is too small and no adventure is too big! To set up your free concierge session with one of our staff, CLICK HERE.
Rec Sports Personal Training program is accepting clients! From the novice to the experienced exerciser or athlete, our nationally certified trainers have the knowledge and skill to help you achieve your personal fitness goals. Contact Stephen Opskar at sopskar@rec.tamu.edu or 979-458-2465 to learn more.
Follow our Twitter (@RecSports), and Facebook (TAMURecSports) accounts for a variety of strength and conditioning at-home workouts and exercise techniques.
University Center & Special Events
The MSC and Koldus are operating on modified building hours.
Find the most current facility hours, changes and updates on our COVID-19 update page.
Rudder Theatre Complex, Rudder Tower and All Faiths Chapel are closed indefinitely.
Veteran Resource & Support Center
The VRSC is currently open with LIMITED capacity and in-person services. Questions regarding availability of certain services can be directed to aggievets@tamu.edu.
In-person meetings with staff are by appointment only. Please email staff directly to arrange appointments.
Military Admissions is available to assist students via phone or email.
VALOR is in the process of identifying Zoom meetings to provide continued support through the semester. Students may still reach out to their VALOR leaders via email and texting service.
The coordinators of our VA Veteran Success on Campus and VITAL programs are available to assist remotely and can be reached by phone or email.
Both the Stark and Forsyth Galleries will be reopening July 1 with the limited hours of Tues.

–

Fri., 10 a.m. to 4 p.m. Admission is free, as always, and physical distancing and mask wearing will be encouraged. Dates and times are subject to change regarding current world health concerns. Visit our website or call 979-845-8501 for current opening information.
For the remainder of the spring semester, all concerts of the university bands, choirs, and orchestras are canceled, as well as rehearsals, tours, performances, and banquets.
Auditions for the Fightin' Texas Aggie Band will take place on-line. Please follow the directions found on our website. Concert Bands, Jazz Bands and Orchestra audition process updates are on the website.
Choral Activities auditions for fall of 2020. Please follow the directions found on our website.
The Music Activities Center is closed.
The staff of the Department of Music Activities is available via phone, email and Zoom to support students.
Missing the sounds of Aggieland? Follow these links for some Aggie sounds!
Becky Gates Children's Center